WE'RE EXPERIENCED
- With over 117 years combined of highly successful Real Estate experience and tremendous market insight. For all of your Real Estate needs, Talk To Tammy: 636-931-9100
COMMERCIAL & INVESTMENTS
For any information about Commercial & Investments, Talk To Tammy!
TALK TO TAMMY BLOG
For more information, Talk To Tammy - 636.931.9100!
April 6th, 2021
– If you're planning to buy a home this year, saving for a down payment is one of the most important steps in the process. One of the best ways to jumpstart your savings is by starting with the help of your tax refund.
Using data from the Internal Revenue Service (IRS), it's estimated that Americans can expect an average refund of $2,925 when filing their taxes this year. The map below shows the average anticipated tax refund by state: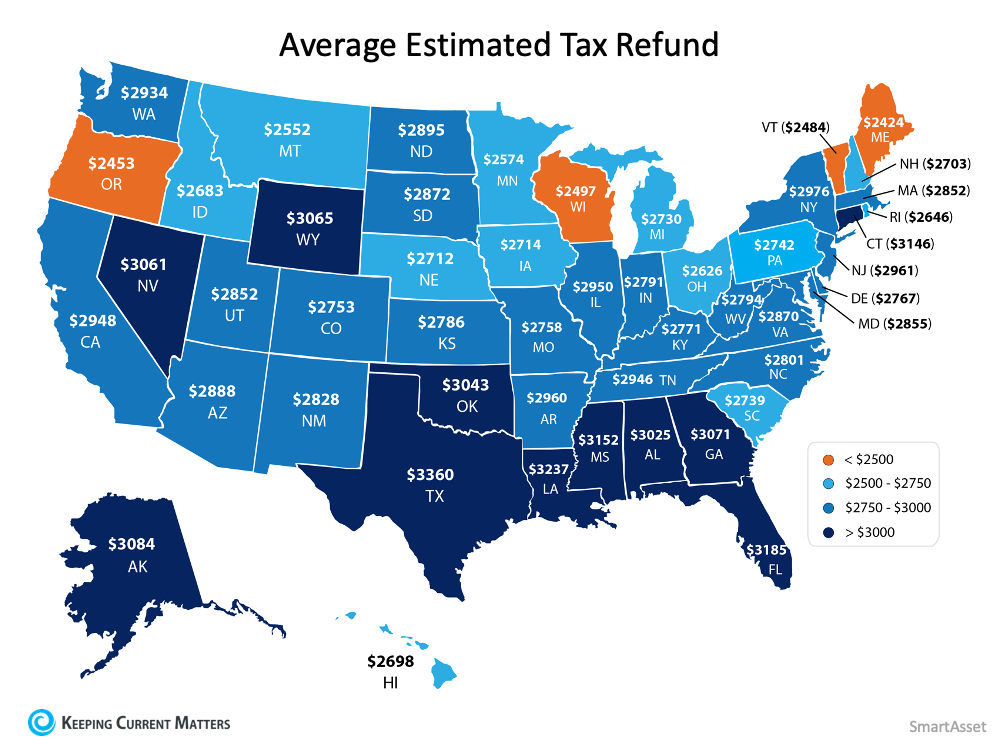 Thanks to programs from the Federal Housing Authority, Freddie Mac, and Fannie Mae, many first-time buyers can purchase a home with as little as 3% down. In addition, Veterans Affairs Loans allow many veterans to put 0% down. You may have heard the common myth that you need to put 20% down when you buy a home, but thankfully for most homebuyers, a 20% down payment isn't actually required. It's important to work with your real estate professional and your lender to understand all of your options.
How can your tax refund help?
If you're a first-time buyer, your tax refund may cover more of a down payment than you realize.
If you take into account the median home sale price by state, the map below shows the percentage of a 3% down payment that's covered by the average anticipated tax refund: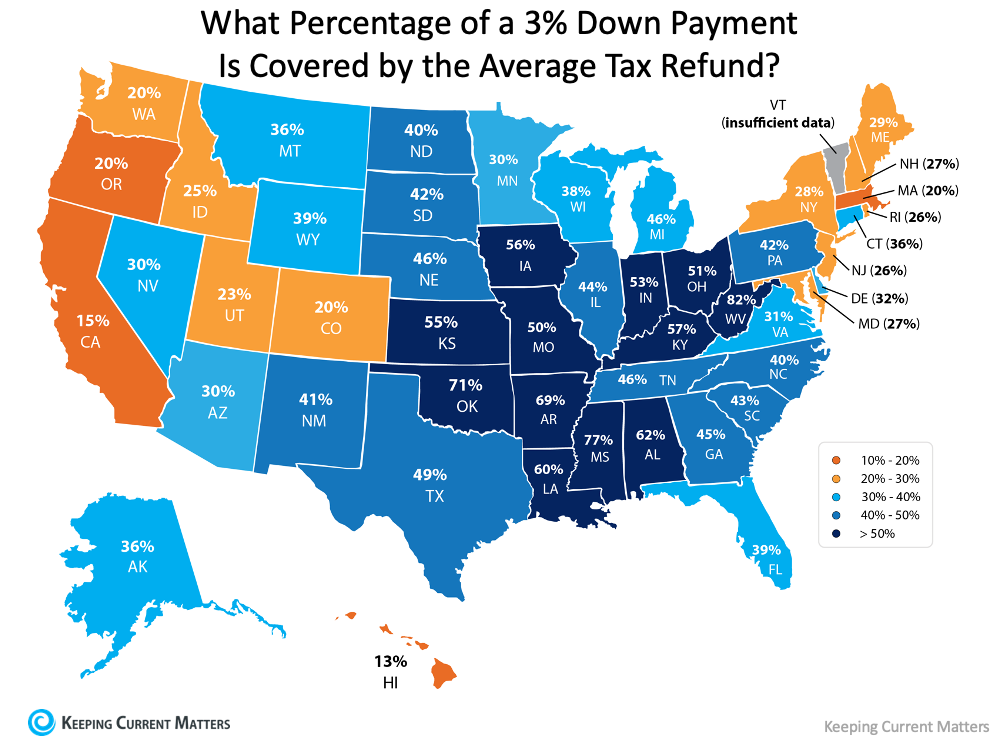 The darker the blue, the closer your tax refund gets you to homeownership when you qualify for one of the low down payment programs. Maybe this is the year to plan ahead and put your tax refund toward the down payment on a home.
Not enough money from your tax return? 
A recent paper from the National Bureau of Economic Research found that, of the households that received a stimulus check last year, "One third report that they primarily saved the stimulus money.â€Â If you had the opportunity to save your Economic Impact Payments, you may consider putting that money toward your down payment or closing costs as well. Your trusted real estate professional can also advise you on the down payment assistance programs available in your area.
Bottom Line
Saving for a down payment can seem like a daunting task, but it doesn't have to be. This year, your tax refund and your stimulus savings could add up big when it comes to reaching your homeownership goals. Talk To Tammy if you are ready to buy your Dream Home, 636.931.9100!
March 16th, 2021 – Housing inventory declined 39.6% on a national level in 2020, making 2020 the lowest housing inventory year on record, according to Realtor.com. Adding to the record-breaking low inventory this past year has been increased buyer demand — although, saying "increased demand" is an understatement. Zillow (NASDAQ: ZG) (NASDAQ: Z) calls the persistent demand for homes we've seen in 2020 "insatiable."
First Time Homebuyers Shocked by How Much Home They Can Afford
February 23, 2021 – Low mortgage rates, financial assistance from parents, and personal savings are helping first-time buyers stretch their housing budgets more than they thought they could, according to a survey from realtor.com® of 1,000 prospective and recent first-time home buyers. More than two-thirds of survey respondents say they are surprised at what they can afford; 47% say their budget is larger than they thought it would be.
"The dramatic decline of mortgage rates in 2020 was a pleasant surprise for many buyers," says George Ratiu, senior economist at realtor.com®. "For first-time buyers, the drop in the 30-year mortgage rate from 3.65% in March 2020 to a record low of 2.65% in January has provided unexpected leverage. Lower rates allowed many buyers to stretch and buy more expensive homes while keeping their monthly budget the same."
Still, many first-time buyers acknowledge having to compromise on their recent purchase, and nearly half of survey respondents say they have been outbid on homes they wanted to purchase. Twenty-one percent of respondents had to expand their housing search to less expensive neighborhoods, 20% had to increase their housing budget, and 18% had to eliminate some items on their wish lists, such as a garage, large backyard, finished basement, or pool, the survey shows.
First-time buyers also are saving for a home faster than they expected. Half of recent first-time buyers surveyed say they were able to save for a home in less than three years by putting aside a portion of their paycheck each month, cutting out discretionary spending, and saving lump-sum payments like tax refunds. Also, many first-time buyers are getting help from their family: 52% of Americans who bought their first home in 2020 say they received down payment assistance from friends or family, most notably their parents.
Buyers Snatch Up New Listings as Quickly as They're Available
Home sales could easily be 20% higher if more homes were for sale, says Lawrence Yun, chief economist of the National Association of REALTORS®. Existing-home sales—completed transactions for single-family homes, townhomes, condos, and co-ops—rose 0.6% in January compared to December 2020 and are up nearly 24% over a year ago, the National Association of REALTORS® reported Friday. All four major regions of the U.S. recorded double-digit annual gains for home sales in January.
"Home sales continued to ascend in the first month of the year, as buyers quickly snatched up virtually every new listing coming on the market," Yun says. Seventy-one percent of homes sold in January were on the market for less than a month, according to NAR's report.
While most of the economy has felt the toll of the lingering COVID-19 pandemic, the housing sector has remained a bright spot, Yun adds. Sales remain high and home prices have continued to rise, adding equity to home sellers.
"Home sales are continuing to play a part in propping up the economy," Yun says. "With additional stimulus likely to pass and several vaccines now available, the housing outlook looks solid for this year." Yun predicts employment to increase, which could spur even more homebuying over the coming months. He predicts existing-home sales to reach at least 6.5 million in 2021.
Here's a closer look at key indicators from NAR's existing-home sales report, reflecting January sales data:
Home prices: The median existing-home price for all housing types in January was $303,900—a 14% jump over a year ago.
Inventory: Total housing inventory at the end of January was 1.04 million units, down nearly 26% from a year ago. Unsold inventory sits at a 1.9-month supply at the current sales pace.
Days on the market: Properties typically remained on the market for 21 days in January, down from 43 days a year prior.
First-time buyers: First-time buyers comprised 33% of sales in January, up slightly from 32% a year earlier.
Cash sales: All-cash sales accounted for 19% of transactions in January, down from 21% a year ago. Individual investors or second-home buyers tend to make up the biggest bulk of cash sales. They accounted for 15% of sales in January, down from 17% in January 2020.
Regional Breakdown
Here's how existing-home sales fared in January across the country, according to NAR's report:
Northeast: Existing-home sales dropped 2.2% in January, but are up 24.3% compared to a year ago. Median price: $361,400—up 15.8% from January 2020
Midwest: Existing-home sales rose 1.9% last month, a 22.7% jump from a year earlier. Median price: $227,800—a 14.7% increase from January 2020
South: Existing-home sales increased 3.2%, up 25.1% from January 2020. Median price: $263,300—a 14.6% increase compared to a year ago
West: Existing-home sales fell 4.4% compared to a month earlier but are still up 21.3% compared to January 2020. Median price: $461,800—up 16.1% from a year earlier
Are you ready to buy a new Home? Talk To Tammy, 636.931.9100